Your vehicle's tires have a simple but crucial function to the performance of your car. Your tires rotate several thousand times per minute while you're traveling, which means that they're constantly scraping against the ground. Over time, this can lead to some damage or wear, so you'll want to find the right tire repairs or replacements nearby.
At Fred Beans Nissan, we're happy to help drivers in Flemington with their tire repairs. We're here to help you get the most out of your tires.
Get the Most Out of Your Tires with Repairs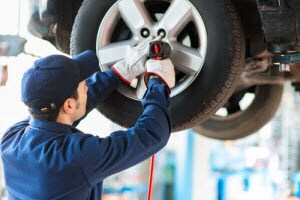 One of the best ways to get the most out of your tires is by having them rotated. This helps even out the wear that they endure so they can last as long as possible. However, tire rotations are a simple service that you can have performed along with your oil change.
When it comes to tire repairs, there are several ways that we can help you. We can plug any leaks, patch any spots, and even adjust your alignment to ensure that all tires are enduring the same pressure. While tire repair is very important, not all tire issues can be repaired; in fact, some need to simply be replaced.
Signs That You'll Need a Tire Replacement
Luckily, there are several signs that you can look out for that let you know that it's time to replace your tires. When you notice these signs, you should seek out service as soon as possible. If you hold out, your tire could worsen or even burst while you're out on the road. Just look out for these signs:
Wearing Tread
Cracked Tires
Wobbly Performance
Vehicle Pulls to the Side
Scheduling Your Tire Repairs
When you notice any of the above signs, or your tires feel unusual when you're out on the road, you'll want to have professional technicians take a closer look to determine the best course of action. At Fred Beans Nissan, our technicians are here to help you along the way. They won't suggest a tire replacement until they've exhausted all of their repair options.
Are you in need of tire repairs? Contact us online today. We're happy to help drivers in Flemington get the miles and years out of their tires though repairs and service.